Important notice
Whilst normal lessons and courses aren't happening at the moment, online courses are available and free of cost to Leeds residents. If you go to www.swarthmore.org.uk you can follow the link to enrol on an Alexander Technique group course.  The next one begins on Wednesday 24th February 2021.  It will run from 2.00pm to 3.30pm and last for five weeks.

This course if free – paid for by Leeds Council, though a fee of £12.00 will be payable to become a member of the Swarthmore Centre.
---
Private one-to-one lessons:
At present I am not giving face to face lessons but I am working one to one online with Zoom. If you are interested in discussing this please contact me by phone or by email.
Under "normal" circumstances I give private lessons in the Alexander Technique in Leeds
on Mondays, Tuesdays and Wednesdays at :-
The Alexander Technique Teaching Centre
Room 19, The Swarthmore Centre
2-7 Woodhouse Square
Leeds LS3 1AD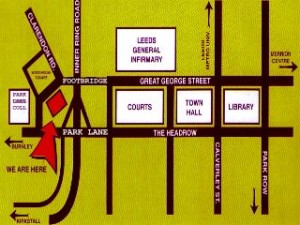 Lessons cost £29.00 each. Concessions may be available. Please feel free to ask.
Lessons last 40 to 45 minutes. Loose, comfortable clothing should be worn.
During a lesson you will only be asked to remove your shoes and jacket.
If you would like to book a lesson, or would like more information, please get in touch.
Group lessons:

The next course I will be running will be online only. It will begin on Wednesday 2th February 2021 and run for five weeks from 2.00 to 3.30pm.  The course is free but a mmebership fee of £12.00 will be payable to the Swarthmore Centre.
For more details or to download an application form please go to www.swarthmore.org.uk
To see the student's feedback from the last course please click Here
I do not take bookings for these courses myself – you must go through the Swarthmore Centre to do this. They can be found at:-
The Swarthmore Centre
http://www.swarthmore.org.uk/
2-7 Woodhouse Square
Leeds LS3 1AD
Tel 0113 2432210