Grant Ragsdale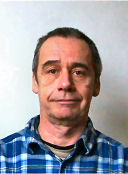 Well, it's been a long old haul hasn't it?

Lately I have been doing some online teaching – one to one with music students and a group course for the Swarthmore Centre.  I  have been pleasantly surprised how well these have gone. I have therefore decided to start giving Zoom lessons to individuals.  Please feel free to get in touch if you think you may be interested.
Please feel free to contact me by phone or email if you feel I can be of any assistance.
My best wishes to all of you in these trying times.
---
Important notice
Whilst normal lessons and courses aren't happening at the moment, online courses are available and free of cost to Leeds residents. If you go to www.swarthmore.org.uk you can follow the link to enrol on an Alexander Technique taster session.
---
Below are links to some videos that you may find useful.  They are not really meant for beginners but I don't think you'll come to any harm if you haven't had experience in the Technique.
Recorded 17th June 2021 – my favourite Dart Procedure
Recorded 29th March 2021 – a bit complicated but well worth it
Recorded 7th January 2021 – not strictly Alexander Technique but really useful
Recorded 29th July2020 – for helping to unite the mind and the body
Recorded 19th July 2020
Recorded 10th June 2020
 Recorded 2nd June 2020 – great for improving balance

Recorded Wednesday 20th May 2020

Recorded Tuesday 5th May 2020 – probably the best one for beginners
Recorded Wednesday 29th April 2020

Recorded Monday 20th April 2020

Recorded Saturday 11th April 2020

Recorded Saturday 4th April 2020
Now have a cup of tea or coffee and a nice piece of cake.
I qualified as an Alexander teacher in 1994 after 3 years training.
Since then I have been teaching the Technique to the general public in Leeds and Hebden Bridge.
For many years I have also taught the Technique to music students at Leeds College of Music.
If you want more information about learning the Alexander Technique in West Yorkshire, please click on a link below.
Lessons in Leeds
for details of individual and group classes in the Leeds area.
Lessons in Hebden Bridge
for details of individual and group classes in the Hebden Bridge area.
One Day Courses and Special Events
for information on Introductory Days and special events.
What is the Alexander Technique?
for information about the Alexander Technique in general. This includes a link to a short video about using the Technique in educational settings.
for information about training to become and Alexander Technique Teacher.
Some other addresses
for addresses of organizations which you may find useful.