Private one-to-one lessons:
I give private lessons in the Alexander Technique in Leeds
on Mondays, Tuesdays and Wednesdays at :-
The Alexander Technique Teaching Centre
Room 19, The Swarthmore Centre
2-7 Woodhouse Square
Leeds LS3 1AD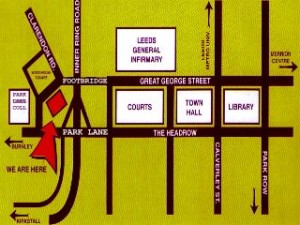 Lessons cost £29.00 each. Concessions may be available. Please feel free to ask.
Lessons last 40 to 45 minutes. Loose, comfortable clothing should be worn.
During a lesson you will only be asked to remove your shoes and jacket.
If you would like to book a lesson, or would like more information, please get in touch.
Group lessons:
The next course I shall be running at the Swarthmore Centre in Leeds will begin in October 2019. This will be from 6.00 to 7.30pm.
The course will run for eight weeks and will be suitable for everyone, those with experience and complete beginners.
The cost for the whole six week will be £67.00 full price or £51.00 / £34.00 concessionary price.
To see the student's feedback from the last course please click Here
I will also be running some introductory workshops at a wellbeing day at the Swarthmore Centre on Saturday 2nd February.  For details please contact the Swarthmore Centre.
I do not take bookings for these courses myself – you must go through the Swarthmore Centre to do this. They can be found at:-
The Swarthmore Centre
http://www.swarthmore.org.uk/
2-7 Woodhouse Square
Leeds LS3 1AD
Tel 0113 2432210